As any responsible policyholder knows, insurance is only ever as good as the information you give. If you've left a key details out or forgotten to update them then you could be left out of pocket. A common area where even the savvy among us can fall victim is underinsurance.
What happens if I am underinsured?
The risk of underinsurance can be devastating, leaving you with unexpected out-of-pocket expenses in the event of a loss. It can happen to all types of policies, such as property, buildings, contents, business or motor insurance.
The innocent mistake of underinsurance can be costly.
In this blog, we'll focus on the impact on properties and businesses, as this is where the risk of underinsurance is highest. We'll explore the consequences of being underinsured, the reason why it's on the rise and some tips.
The 'Average' clause explained
Most insurance policies will have an underinsurance clause called 'average'. If the average is applied, the insurer would reduce their claim settlement. The difference would then need to be covered by the policyholder to complete the repairs.
Here is an example of average being applied: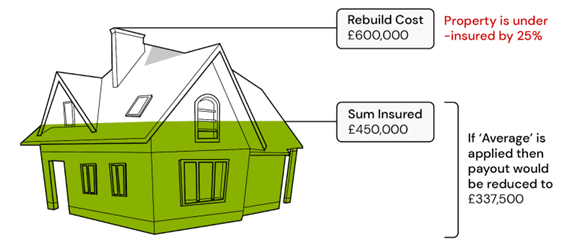 As you can imagine, this can sometimes come as quite a surprise. It also means that ANY payout could be reduced by the amount the property is underinsured. So for example, if you had a £50,000 claim, and were underinsured by 25% then the insurer would only be required to payout £37,500.
This danger is exacerbated by high rates of inflation. If the cost of resolving a claim increases (whatever the factor), then your previous insured amounts might not be suitable.
The consequences of underinsurance
Insurers will only pay out what they are required to. If you are underinsured they typically reduce the payout by the percentage that you were underinsured by, arguing that it was a greater risk than they had been aware of.
It is the customer's responsibility to provide accurate valuations for insurance. In cases of significant underinsurance, the insurer could reject a claim and void the policy arguing that the customer failed to provide a fair presentation of the risk.
What does it mean for properties?
It is crucial to ensure that your assets, including buildings contents and rental income are adequately insured. For buildings insurance, your sums insured should reflect the true cost that it would take to rebuild your cost. According to the Federation of Master Builders' State of Trade survey, builders have seen material prices increase by as much as 25% and labour costs by 30% in the same period.
With record-level inflation and several other factors thrown into the mix, things get a little more complicated.
To check your sums insured you can get your property professionally assessed by an RICS qualified surveyor or using the BCIS rebuild calculator:
How many properties are at risk?
76% of properties that had a survey between January and July 2022 had some form of underinsurance. According to survey data from Barrett Corp & Harrington (BCH) across 4,813 surveys for both commercial and residential properties.
What does it mean for businesses?
From properties to assets, rapid inflation affects pretty much everything and can lead to underinsurance. Even more businesses are believed to be underinsured as a result of the cost of living crisis than ever before.
In certain sectors, the value of goods has increased much higher than the rate of inflation.
What can you do?
Rather than waiting to review your insurance annually as you might usually do, set some time aside to address it now. It is also vital that you review your insurance anytime you make a significant change.
Check sums insured/rebuild costs are adequate

Check business interruption costs are accurate

Check that your wage roll is accurate
We provided the above to make you aware of external factors that could impact costs outside of your renewal.