2nd October 2022 • 9:30am
Countdown to London Marathon
Chapter 5: Post-Marathon
Wow.
What an experience, and a privilege, to be involved in the London Marathon at the weekend.
As I bask in the afterglow, and like a typical marathon runner bore anyone who asks (and even those who don't) with tales from the weekend, I wanted to capture some thoughts and tips should you be considering running the marathon next April.
Suffice to say I have only run one marathon so these are not the views of an expert!
If you are thinking about it… Do it. I can't recommend the experience highly enough. The day itself was incredible, with an awe-inspiring and life-affirming atmosphere for the whole distance. I will also confess to having largely enjoyed the training – I had a varied plan which kept things interesting, and really felt the physical and mental benefits to being out on the road (or canal paths).
Have a target. It might simply be 'to complete the marathon' which is a difficult enough target itself! Or it might be a time or pace-based target. It should be solely based around you – you are not competing with anyone other than yourself! I had done a half marathon 10 years ago, a 10k a couple of years back and then did a further half marathon earlier this year. You can take your times from such events and calculate (with assistance as it isn't linear!) what your target could be for the marathon. For me, all the data was telling me in the region of 3.35-3.40, so I set myself a target pace of 8 minutes per mile as I knew that would get me inside that and close to 3.30.
Follow a training plan. Once you've got your target, you can follow a plan that takes this in to account. The good news? There are loads of resources, some of which are free, available to you. Personally I followed the 'Nike Run Club' Marathon training plan, which was free and over 18 weeks (I had also followed their half marathon plan earlier in the year). The plan generally had me running 5 times per week, and was a mix of short recovery runs, speed runs, hill runs, distance runs and more. Much of the time I followed the pace guide for the run (which is based around what you want to get to for the Marathon) and simply set off (with my smart watch telling me my pace), but other times I followed the guided run which is downloaded (again for free) within the app and talks you through it if there are changes in pace or recovery periods built in to the run. It took away the need for too much thinking and was invaluable!
Plan for the weekend. If you are like me, you will start to feel pretty stressed about the run 24-48 hours out! Have a plan for your weekend, taking in to account the need to register in person for the marathon at the latest the day before. Try to keep off your feet as much as possible the day before (I did have an afternoon chasing the kids around the Natural History Museum but managed to stay seated for large parts of the day). Figure out how you will get to the start line, and plan to do so in good time (an hour before) so that you can get your bearings, drop your belongings and queue for the toilet…
Have a race plan. For me, it was all about consistency – I wanted to consistently run 8 minute mile pace, and as you can see from my splits I did just that! If I'd shot off at the beginning (as you will want to, as the adrenaline will be flowing and you will feel very excited), I'd have blown up by the end, so I paid a lot of attention to my pace then, and then as I got in to the last few miles where my natural rhythm wanted me to slow down.
Don't change from what you've done in training. Wear kit that you have worn before and know will be comfortable, and drink and fuel with products that you know are not going to cause you any issues – this may involve taking your own drinks and products as what is available around the course will be water and Lucozade (or whoever happens to be sponsoring).
It's going to hurt (as you can probably tell from the photo of me by Big Ben)! But it will be worth it. I lost nails in training but that was actually fine (it had been something I really wanted to avoid!). I did manage to avoid any chafing which was welcome! But regardless of your training, the last few miles is going to test you. You will see people pulling over, stopping, and in some cases collapsing as you near the end. Your body will want you to stop, and there will be a voice on your shoulder telling you that you could. But if you trust your training, and have followed your plans, you will get through it, and it will be very worth the short-term pain!
How long is a marathon? If you are answering 26.2 miles then you, like me even during completing it, are wrong! It's 26.22. And believe me, that extra 0.02 is a killer! At least you know about it now and can plan for it..!
If you are still thinking of doing it after the above, why not run for a charity? I was proud to run the marathon on behalf of Primrose Hospice and am so grateful to them for the opportunity to have done so. They have places available for next April should you wish to contact them to discuss. By far my most important target was the fundraising – as of today we're at £3,158.39 including Gift Aid, thank you so much for all of the support.
Chapter 4: The Final Countdown
After 153.6 miles in September, 498.9 since focused marathon training began, and 835.5 since the start of the year, marathon training is done!
My wife commented this week that I seemed remarkably calm for someone about to run their first marathon, and although I'm fully expecting that to change in the coming hours, the numbers above are why I have been calm so far. I know that I've done what I needed to do in training, now I just need to keep my health, fitness and nerves in check!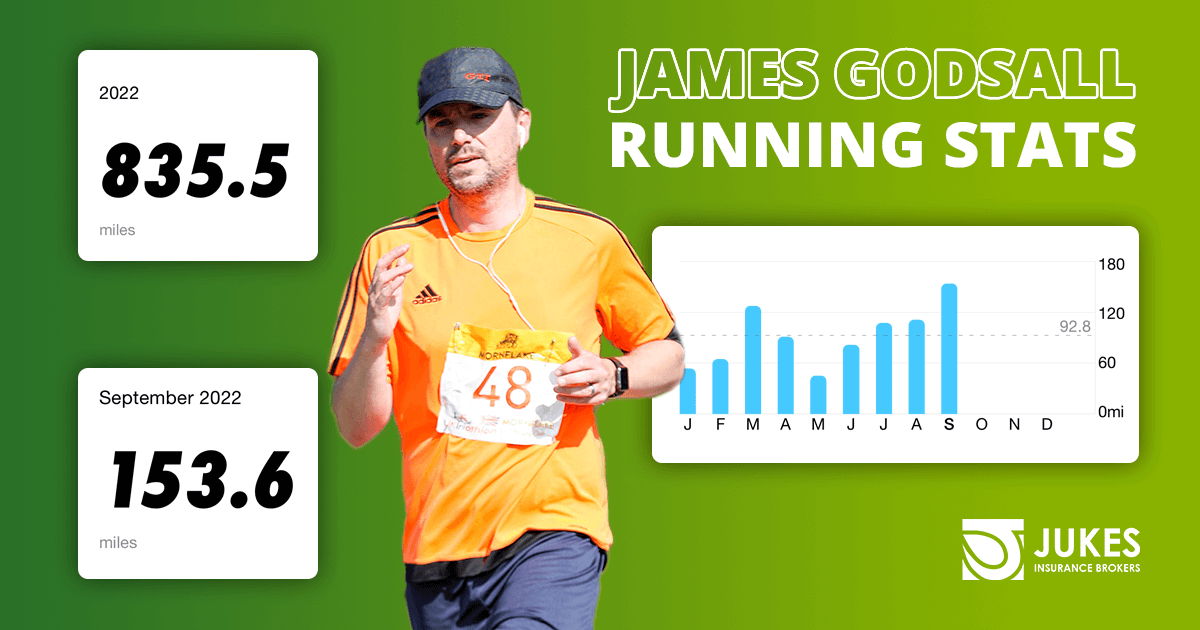 My biggest concern now other than that? Getting the playlist right! I like to have some music on to keep me company and give me the occasional boost on a run (and, in the case of the first mile, to help calm me down!). Current staples include:
Kanye West – All of the Lights

The Killers – When You Were Young

Sigur Ros – Inni Mer Syngur Vitleysingur

Kendrick Lamar – Wesley's Theory

Chemical Brothers – Go

Foo Fighters – Bridge Burning

Little Simz – Introvert

Metallica – Wherever I May Roam

AC/DC – Back in Black

The Beach Boys – God Only Knows

Jay-Z – Numb / Encore

Bruce Springsteen – The Rising

Courteeners – Not Nineteen Forever

Dr Dre – Still D.R.E.

Phoebe Bridgers – Kyoto
Any late suggestions will be gratefully received!
Thank you so much for the donations received so far – we've hit our target and now want to go as above and beyond as we can! In particular I must thank our headline sponsors – alongside Jukes Insurance Brokers and North Warwick Insurance Services – PropRec and Five Alive Networking. If you work in property / construction, PropRec are specialist and expert recruiters in this area and are well worth connecting with. Five Alive are a new networking concept in the Midlands that I'm happy to share more about should it be of interest!
A huge thank you to all 26 of the mile sponsors (a lot of thought went in to the ordering of these!), and to everyone else who has been so kind to donate so far.
Chapter 3: Run in the Sun
A couple of weeks in Portugal. What do you think of? Sun. Sand. Sagres or Super Bock?
Well, on my recent family holiday there was all of the above. But there was also the small matter of continuing my Marathon training with London fast approaching. During the 2 weeks, I covered over 58 miles running (including my longest ever run at 18 miles), and more than 25 cycling.
My feet and knees are definitely starting to feel it! The one blessing is that I thought the warm weather would be punishing, but in contrast to how things have been here during the past couple of weeks I think I had it fairly easy!
Despite some early morning alarm calls, and the aforementioned aches and pains, my main feeling during my training in the sunshine was one of gratitude. The longer runs in particular took me out in to a National Park – it's fair to say that as beautiful as some of the spots I have near home are to run, I don't see many Flamingo's in the canals of Worcestershire and the West Midlands! Some of the sunrises and sunsets were also amazing.
There's no doubt that as well as being good for my physical wellbeing, there are other benefits to the increased activity that my training continues to bring, and being out amongst some of the best that nature has to offer is definitely one of those benefits.
Thank you to everyone who has contributed to the fund-raising efforts so far, it has been much appreciated! I'll be back along the roads and canal paths this week so keep your eyes peeled if out and about!
Chapter 2: The Tale of the Tape
In the first part of my blog on training for the London Marathon, I addressed the question of 'why'? For this second part, I thought I'd share an overview of how training has been going so far.
Originally, the Marathon was due to be held in April. I thought the timing was ideal, ahead of a spring and summer of various celebrations as I and a lot of my friends have found ourselves reaching 40 this year. Then the date was moved to October, for reasons that I'm sure you can guess given the last couple of years!
Given my fitness at the end of last year was certainly not of a standard that would have any chance of tackling a Marathon, and I am someone who needs something to aim for, I thought I'd kick start my training by training for a half marathon which I then ran (in Sutton Park) towards the end of April. The training and the race went surprisingly well, and I added a new claim to fame by being (well) beaten in the race by CJ of Eggheads fame (one for TV quiz fans).
Since then, I've been following a training plan, which took things back to a slightly more relaxed pace and length than I'd been at with the half marathon, recognising that it would likely not do me any favours to try and keep that up for several more months.
June definitely saw things pick up, with nearly 100 miles covered, a longest run of 10.5 miles, and average run of 4.5 miles. July has so far been a little stop-start due to being unwell for a few days.
Fitting it in during what was a very busy month in June, both in work following the acquisition of North Warwick Insurance Services, and outside of work as well with 3 trips to London for gigs (2 of with should have been in 2019!) and another 40th celebration weekend, hasn't been simple – but nor has it been impossible.
I think the thought of committing time for something like a marathon can be overwhelming – I certainly felt that was at the beginning of the year. There are certainly times when it isn't easy, but like most challenges when you break it down in to chunks it seems far more manageable. I don't train more than 5 days in the week, and most of the runs at the moment are in the 30-45 minute territory with one longer run a week. That won't be the case as I enter the last 11 weeks of training so my current thoughts around how achievable that balance is may be subject to change!
Chapter 1: Why? (Oh why, oh why?!)
There was once a time when packing for a holiday consisted of a last minute, rushed depositing of clothes and hair products into whatever bag I could lay my hands on. Over the last 6 and a half years, it became more of a military-style operation to squeeze what I discovered to be an incredible amount of add-ons that children apparently come with into our luggage or car.
This year I've given myself one more essential to add to the packing list – my running gear. Aside from the aforementioned children (and my wife), it was the number one priority item for a recent break in the Forest of Dean over half-term.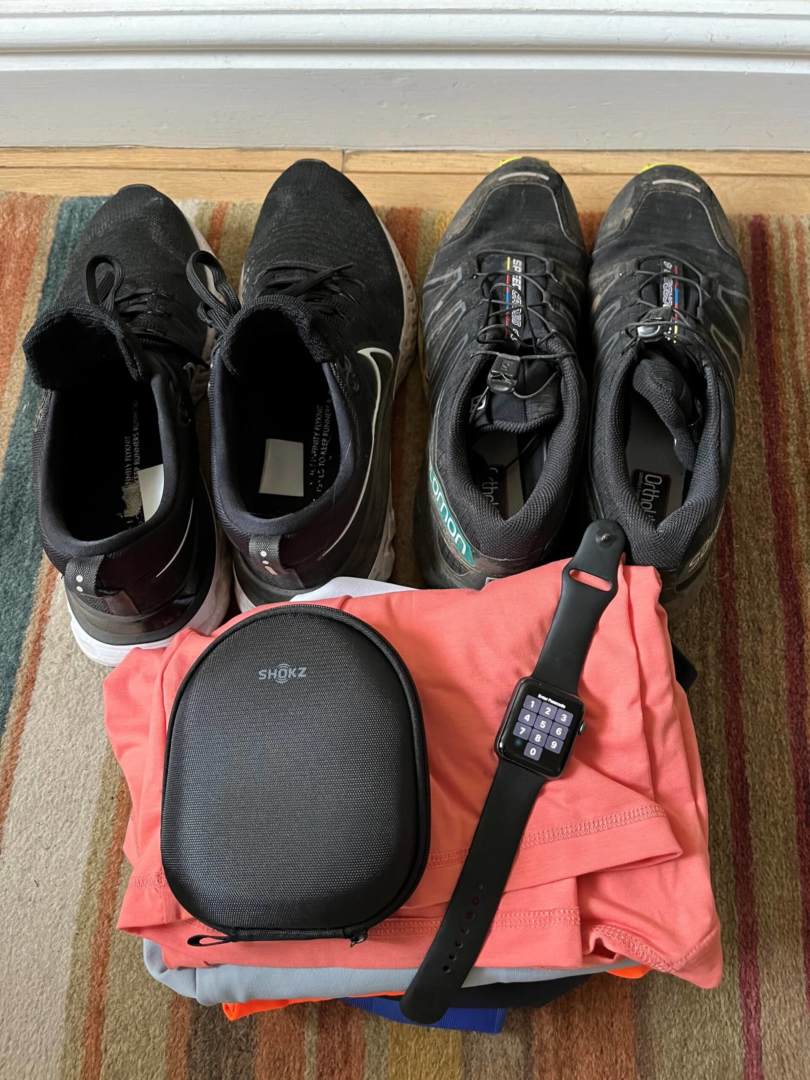 As you'll no doubt be aware by now as you are reading this, I am running the London Marathon in October. Like anyone running a marathon, I may have mentioned it a few times and managed to squeeze it in to most conversations I have had this year.
It begs the question; why?
It's one that I've asked myself a couple of times over the past few months as I've started my preparation!
I've never had a desire to run a marathon. I quite enjoy running and had previously done a half marathon, but 26.2 miles seemed like far too much of a commitment for my tastes.
Then last year, I was asked by Primrose Hospice whether I'd consider running the 'virtual' 2021 London Marathon in support of them. I declined, but in a moment that some will view as madness offered to run the real one this year.
Like many people in my childhood town of Bromsgrove, I know people who have had incredible support during the most challenging times from the fantastic team at Primrose Hospice. The difference they make to people accessing their services, whether for direct support as they enter end of life care, or to those deeply impacted by the suffering and loss of loved ones, is invaluable.
At Jukes Insurance Brokers, we've had long-term involvement and support for the Hospice that pre-dates my time here. I was very clear when joining that continuing to play an active part in supporting our community and vital organisations like Primrose Hospice within it, would be a core part of how I wanted us to act as an organisation. We're very fortunate to have had great support from the community of Bromsgrove, and will always look to ensure that support is mutual.
This is one of those ways of showing that support. Often it'll be in much smaller, unseen ways – in the way we operate day to day – but occasionally someone (me in this case) will make a slight show of themselves in the hope of doing something positive within the community.
So that's why I found myself packing the vital training gear, and plotting out various routes around the forest on our holiday. Thankfully the family are supportive and understanding – and in the case of my 6 year old Matilda, happy to occasionally keep me company as you can see!